The Fresh Expressions journey is a six-stage process for forming a new Christian community. In this article, you will read real-life examples of Listening, Loving People, Building Community, Exploring Discipleship, Church Taking Shape, and Doing It Again.
As King Street Church was forming in 2013, we began looking for a way to start a church that met our neighbors where they were and formed a new kind of church there. After several months of research, we stumbled upon Fresh Expressions. I was immediately taken by the process in which these new forms of church were started, a process called The Fresh Expressions Journey.
The Fresh Expressions Journey is a six-step process that most fresh expressions walk through as they form. Of course, the process is never as simple as it looks, but these steps gave me a basic framework to envision how King Street Church might form.
Now, as a cultivator and coach of fresh expressions in western North Carolina and beyond, I point fresh expression leaders to the Journey on a daily basis. I ask questions like, "What stage of the journey have you been working on?" and "How might you begin to move into the next stage?" As John Maeda, President of the Rhode Island School of Design, says: "Making a process visible makes a practice reflectable." In this series of posts, we'll reflect on each stage.
The Six Stages of the Fresh Expressions Journey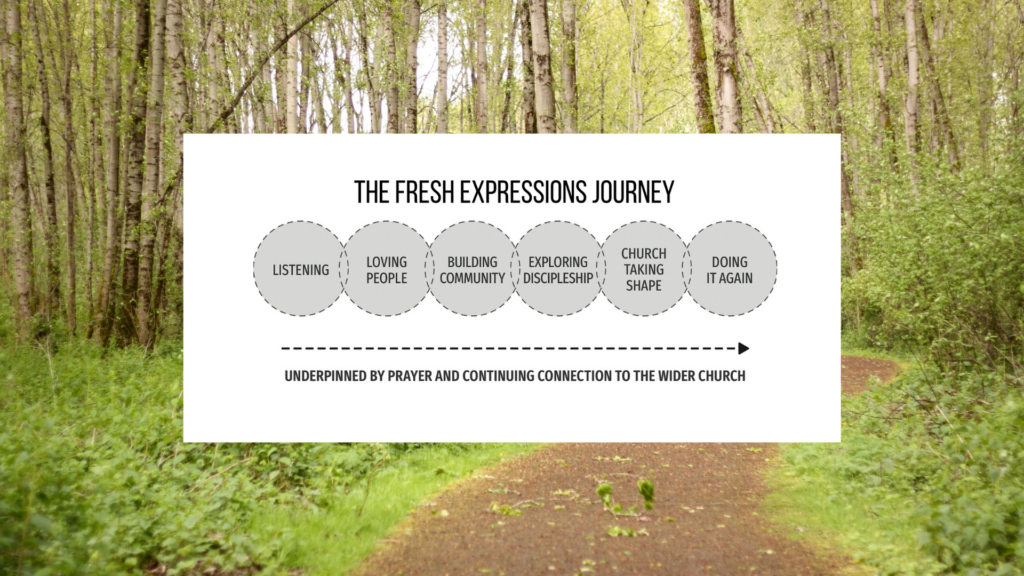 Stage One: Listening
Faith communities that connect with post-Christian neighbors begin with listening. When we reach out with open ears and open minds, we can create a community that will meet people where they are and walk alongside them to Jesus. It's important not to start the process with preconceived ideas or preplanned programs. Be open to what your community is longing for.
There are two ways of being that will help you in this stage: curiosity and patience. Curiosity opens us up to new possibilities. It reminds us that God has been active in our community long before we arrive.
Instead of forcing our ideas and personal preferences on our neighbors (aka colonialism), we take time to ask our neighbors what they are passionate about and what they would like to see in their community. Patience keeps us from rushing into a program or idea that are neighbors aren't asking for. A great starting point in this step is prayer walking.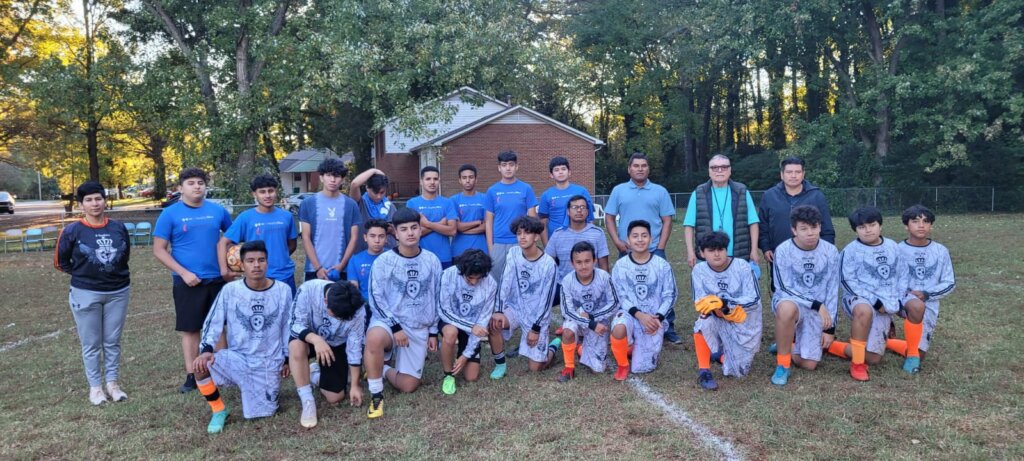 Pastor Juan Julio Paredes was tasked with starting a community ministry in an area of Charlotte with an exploding Hispanic population. He hit the pavement and started knocking on doors, asking neighbors what they would like to see in their community.
Several residents mentioned they would like an affordable soccer program for their children. Pastor Paredes invited his neighbors to help clean up the church property with him, and together they developed a soccer-based fresh expression that remains a thriving community ministry today.
How might you begin to deeply listen to your neighbors?
Stage Two: Loving People
As we begin to listen to our neighbors, we form new friendships and invest more deeply in existing friendships. Love and friendship are the foundation on which we build a healthy fresh expression. Focusing on relationship-building keeps us from seeing our neighbors as targets to fill our programs.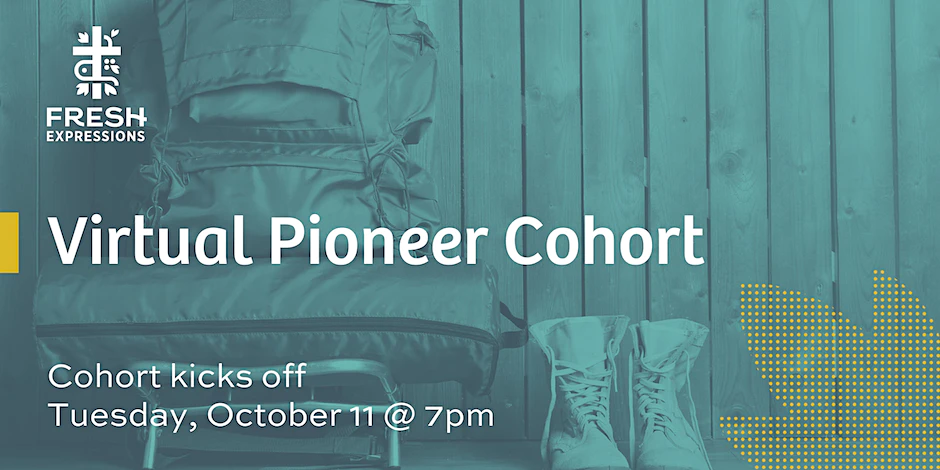 Forming relationships is one of the most impactful things we can do in our communities. The United States is facing something sociologists have termed "friendship decline." The Survey Center on American Life found that the number of close friendships Americans have has declined precipitously since 1990.
Victor Lee Austin writes, "Friendship is why we exist in the first place. Friendship is also our final end in the kingdom of God. Out of friendship God has made us, for friendship he has died for us, to friendship he ever draws us." So go out there and invest in friendships!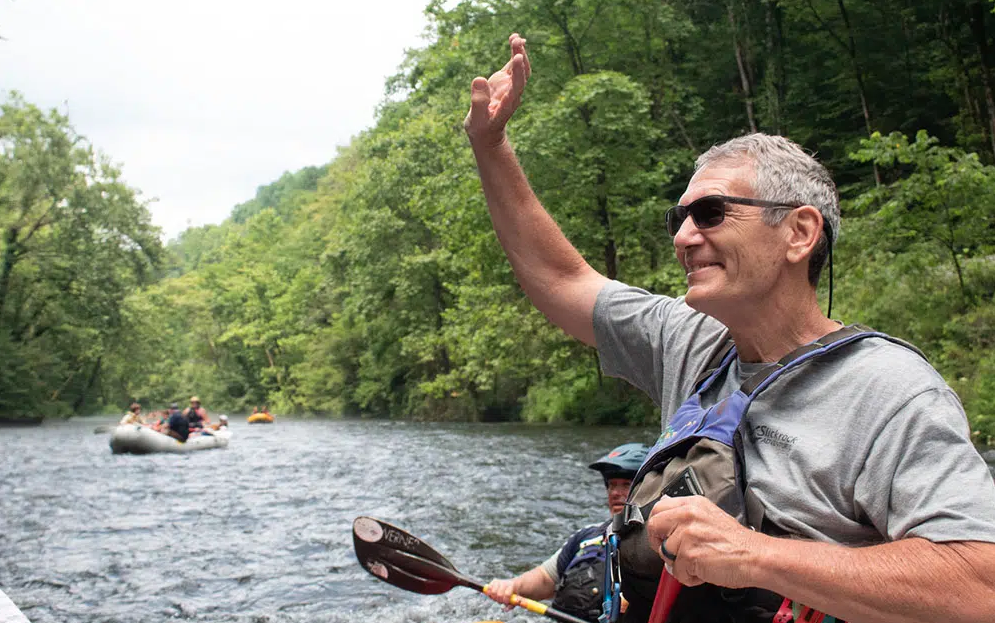 Former Olympic canoer Wayne Dickert was a river guide at the Nantahala Outdoor Center (NOC) in Bryson City, NC for over a decade before he felt a call to ministry. In seminary, he began to wonder what a church for paddlers could look like. He talked to the owner of the NOC about starting a congregation for paddlers there and was surprised to hear an emphatic, "Yes!" By the time he started gathering a faith community, Wayne had hundreds of friends to invite. Fifteen years later, River of Life is our oldest fresh expression in the Western NC Conference.
Who can you invest in relationally? Where can you go to make new friends?
Stage Three: Building Community
Faith communities that connect with their post-Christian neighbors form a social community that can become a spiritual community. In this stage the leaders of the fresh expression begin to organize gatherings that build towards a cohesive community. Communities create a sense of belonging, form a shared identity, and add something of value to their members.
The American church has become over-focused on populating programs and lost sight of our community-building roots. As Georges Florovsky observes, "From the very beginning, Christianity was not primarily a 'doctrine,' but exactly a 'community.'" The United States is facing an epidemic of loneliness, a perceived lack of meaningful social interactions. By focusing on social community, fresh expressions offer a compelling response to our cultural moment.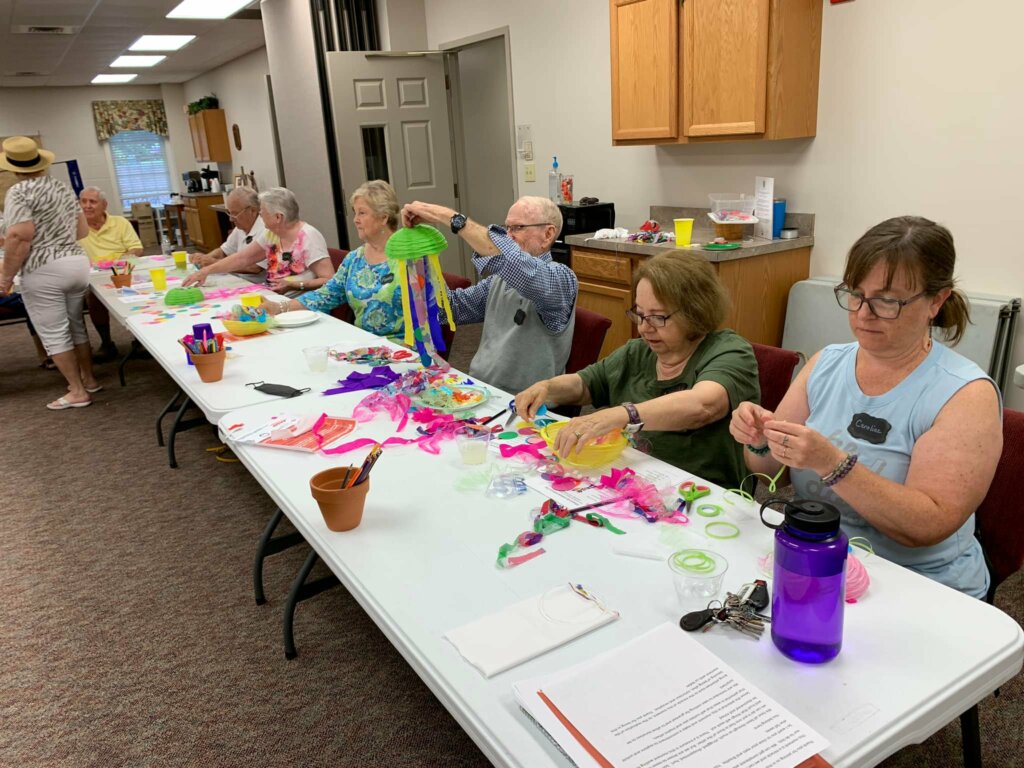 Every month, Jamestown United Methodist Church in Jamestown, NC, organizes a Memory Café—a social gathering for people with dementia and their caretakers. Dementia can be socially isolating, and Memory Café provides a place that is safe and free of stigma. Each month the Café has a different theme like Vacation Travels, the Kentucky Derby, or St. Patrick's Day. Gatherings can include games, music, art, or gentle exercise. It's easy to see from a quick browse of their Facebook page that everyone has a great time together.
What is something you can do with your neighbors to build a sense of belonging?
Stage Four: Exploring Discipleship
Leaders patiently look for opportunities to introduce discipleship to the group. Often the best way for this to happen is to leave the social gathering untouched, inviting folks who have become a part of the group to come to an additional gathering with a simple element of discipleship. To become a disciple of Jesus means to become a learner of Jesus, and as we learn from Jesus we begin to live like him.
Discipleship takes time. Dave Male points out that research suggests that it takes people four years to move from vague interest to real commitment to Jesus. Think about learning a new language as an adult: It might start with some didactic learning, practicing on the Duolingo app or taking a class at a community college. But to really grow, you'll need to work with a mentor regularly. Even better, you might take a trip to a country where they speak the language, fully immersing yourself for an extended period of time. Discipleship in a fresh expression is similar—there are formal conversations rooted in scripture, but a lot of it is worked out together in mentorship and immersion in the context of community.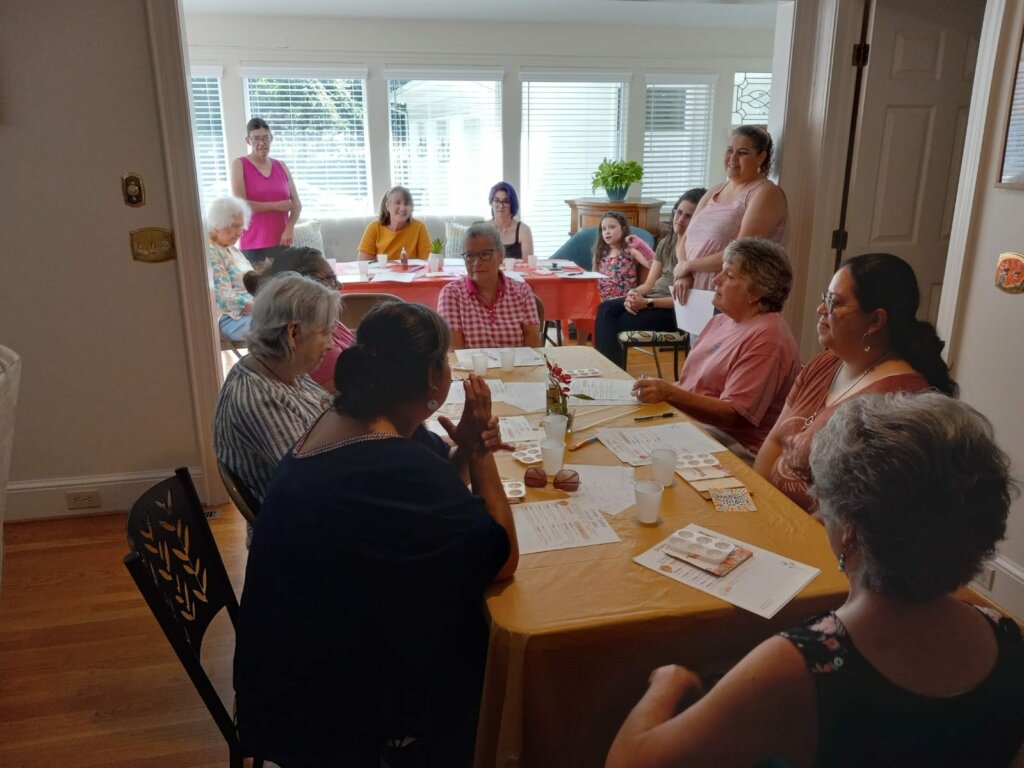 Jaidymar Smith is a passionate follower of Jesus and a gifted artist. One of her favorite ways to connect with God is through Bible journaling, reflecting on a passage from scripture by creating something beautiful. She has turned this into a fresh expression in Ramseur, a rural community in North Carolina. Originally from Puerto Rico, Jaidymar leads the gathering in English and Spanish and it is a rare community gathering that brings together Hispanic and Anglo neighbors for meaningful connection. Every month discipleship occurs in her house through art.
How might you encourage your neighbors to grow closer to Jesus?
Stage Five: Church Taking Shape
Faith communities that connect with post-Christian neighbors gradually add elements of church. As opposed to a new church's launch Sunday, where all the marks of church are present from the start, we start with one or two elements (e.g., prayer, scripture study, or community) and, over time, add more elements until a complete picture of church is realized.
What does your tradition consider the essential elements of church? When you figure this out you can seek to creatively incorporate them into your fresh expression over time.
At King Street Church, we began with proclamation. For us, this wasn't a twenty-minute sermon. It was a conversation about a bible passage as we gathered around a few tables at the Boone Saloon. Later, we started a prayer group and then incorporated giving by raising money for folks getting out of prison. We celebrated communion together and had several river baptisms in the cold mountain waters of the Watauga River.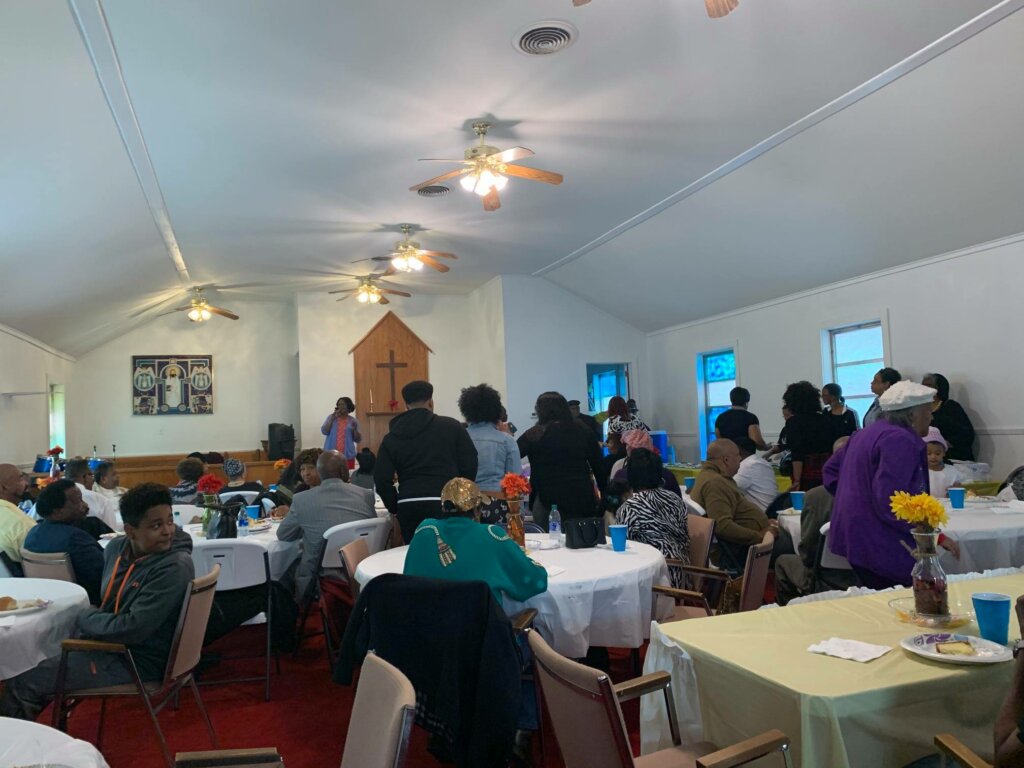 New Covenant United Methodist Church in Lenoir, NC, pulled out all their pews and replaced them with tables and a buffet line. When they formed their dinner church, they incorporated a "testimony time," an important element of church in the black church tradition. Every week people are invited to testify about what God has done in their lives.
What are the essential elements of church? How might you incorporate them creatively into your fresh expressions?
Stage Six: Doing It Again
By keeping ecclesiology simple, members can start their own fresh expressions and, very soon, a network of fresh expressions takes shape. Since gatherings are more communal in nature, fresh expressions grow by multiplying. As you lead your first fresh expression, look for people in the group who would be good at leading their own.
The shift from one gathering to a network of gatherings will require creating a system of support and accountability for the leaders. A support system might look like a monthly check-in led by a pastor on staff at the church or a collaborative team of fresh expression leaders who offer support to one another.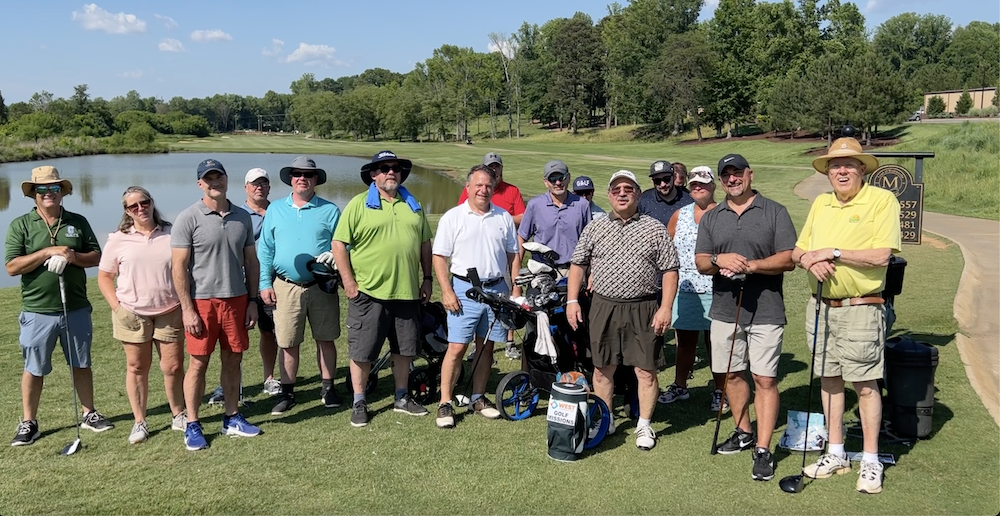 West United Methodist Church in Mooresville, NC, has started five fresh expressions in the past five years. They began with a yoga gathering that quickly started packing out a local studio. Since then, they've started a paddle boarding and meditation group, a group for older adults called "Alive at 55," a group for Gen Z folks, and a golf group. The golf group began collecting an offering together and recently delivered over three hundred dollars to a local young woman who had been injured in a golf-cart accident. Dawn Lynch, a lay person on staff at West UMC, helps lead the yoga gathering and supports the leaders of the other groups.
Who in your church or fresh expression has the gifts to start another fresh expression?
A Moveable Church
The Church doesn't have to be a "stationary" institution. Churches can actively move to people, and develop naturally among them. What might "a moveable church" look like in your context?