The Deadliest Year in US History
We are in the midst of the worst overdose epidemic in the history of the nation. In 2020, "the deadliest year in US history," overdose deaths reached a record 93,000 amid the COVID-19 pandemic. That estimate was high above the 72,000 drug overdose deaths reached the previous year (an increase of 29 percent). In 2021 more than 100,000 in the US will die from overdose.
To give a little historical context here, the CDC reported fewer than 7,200 total US overdose deaths in 1970 at the height of the heroin epidemic. Over 9,000 lives were claimed in the height of the crack epidemic in 1988. While overdose deaths are just one aspect of the deadliest year in US history (approximately 378,000 deaths attributed to COVID-19 of more than 3.3 million deaths), Christians should be first responders rushing to the front lines of this crisis.
In the recovery community, we call the holidays "the season for the reason." More people relapse and overdose during the holidays than any other time of year. Just consider for a moment, 93,000 overdose deaths average to more than 250 deaths per day, or roughly 11 every hour. In the time that you read this article, someone will likely overdose.
As devastating as this crisis is, we rarely talk about it in the church. I wrote a new book called Painting with Ashes to help church leaders start these discussions.
Real People, Not Just Statistics 
These people are our parents, children, friends, and loved ones. People like my little brother, McKinley. On September 27, 2018, he died in my arms from a drug overdose. He had just finished a ten-year prison sentence. Because we were born in poverty and had no ability to acquire proper legal defense, McKinley was given the maximum possible sentence for his crime. The prison system deformed my little brother's soul even further than the streets did.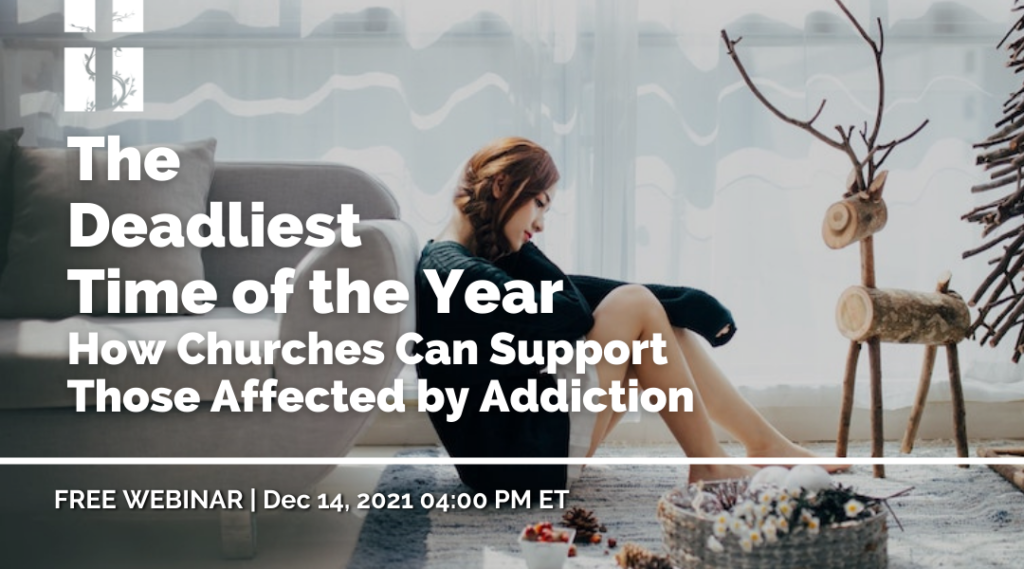 McKinley spent almost half of his young life incarcerated. When he was released, I had a place for him to live and a job. On my church property, we have an inpatient treatment program, shelter for men experiencing homelessness, and a halfway house. He decided to go back to old friends and family members. Within a month, he had relapsed back into intravenous drug use. Within two months, he was dead at 34 years old.
I was in the middle of a speaking engagement when the hospital called me. They told me I needed to come quickly, as they weren't sure how much longer he would live. When he overdosed, the people he was using drugs with simply left him lying in the trap where they were getting high together. By the time he was found, his brain was irreparably damaged and most of his organs had shut down.
As my little brother died in my arms, I had my own flash of memories. He and I as little acolyte boys in the church services our grandma made us go to in the sanctuary where I'm now the pastor. Playing in the rain. Holding each other as my mother was being beaten in the next room. Making trouble together, getting high, and committing crimes. We had the same experience of church as children, but his became a source of resentment, while mine became my only true hope. He could not find healing for his wounds in this life.
I refuse to let my little brother's death be in vain. I truly believe that when life hands us ashes, we have a responsibility to paint the world more beautiful with them. His loss is now more ashy paint on my palette. I use it to push through the pain and paint portraits of healing for others, to let them know they don't have to end their story that way.
Cultivating Communities that are Accessible, Safe, and Real
Wounded people turn to various forms of addiction to self-medicate our pain. Yet, we know these are wounds that can be healed. And we know a wounded Healer (John 20:27). Recovery groups can be places where people find healing. I believe every single congregation can do something to help. Whether it's repurposing our church facilities to house programs, giving 12-step fellowships space to meet, creating support groups for the loved ones of those afflicted, or starting Christian recovery ministries . . . we can make a difference.
More importantly, I believe it's time for Christians to cultivate Fresh Expressions of Church specifically for people in recovery. These communities need to have three primary ingredients, they need to be: accessible, safe, and real.
Accessible: These communities form in the normal spaces where people gather and speak plain truth for plain people. The only requirement for membership is a "desire to flee the wrath to come." This church is close, in our neighborhood, and speaks a common language, just as Jesus did when he came and made his dwelling among us (John 1:14).
Safe: These communities meet in smaller, intimate groups. All people from every walk of life are welcome, and harmful behaviors are not tolerated. It's a place of healing, not harm, an environment of grace, an inclusive space where the "good news" is made available to all (Luke 4:18–19).
Real: People are invited to come to terms with and express their brokenness. As we often do in the Wesleyan tradition, this is a space for asking, "How goes it with your soul?" People are invited to name their woundedness in a community of reciprocity and mutual support. They process their pain in uncensored language, with prayer that brings real healing (James 5:16).
These little communities are places of embodied hospitality. A community that is accessible, safe, and real can give people space to express their struggles and find healing. Healing takes place in safe conditions where honest stories of woundedness can be shared. Communities that are accessible, safe, and real can allow people to process their trauma in an unfiltered way. Cultivating these healing communities, where people can paint with ashes, can help heal the world.
Calling for Shepherd Malpractice
In Painting with Ashes, I suggest it's time for the church to take up Jesus' way of shepherd malpractice. In Luke 15 Jesus tells us a story about a lost sheep and a good shepherd. The story can become so familiar to long-term Christians that we miss the controversial nature of what Jesus is saying.
No good shepherd in his right mind would ever leave ninety-nine faithful sheep to the dangers of the wilderness and go after a single stray sheep. They could be attacked by predators, stolen by bandits, or scattered even more. The ninety-nine could be harmed or lost while the shepherd is away. At the very least, the shepherd would lead them to safety first, but surely not leave them in the wilderness.
No good shepherd would do that. That is simply shepherd malpractice.
Anyone from the shepherd's union who was present that day would give Jesus a massive fine for a terrible story.
Yet Jesus insists that a good shepherd does indeed leave the ninety-nine to go after a lost one.
Not only that, but when he finds it, he lays it on his shoulders, and brings the lost sheep back to the fold. Then he calls all the friends and neighbors, and they have a roaring celebratory party. They celebrate the sheep once lost, now found. Jesus doesn't hide his main point: "Just so, I tell you, there will be more joy in heaven over one sinner who repents than over ninety-nine righteous persons who need no repentance" (Luke 15:7).
Christians everywhere can join Jesus in this shepherd malpractice. We can regularly leave the 99 to go after lost ones. The true malpractice is for churches to spend time on programming for the healthy people when so many people like my brother are dying just outside our walls. How can we form community with people outside the sheep pen, where they do life?
A Church in the Wild
Two of our greatest twenty-first-century poets, JAY-Z and Kanye West, have said there's "no church in the wild" in their song by that name. It's possible that they are correct. One dimension of their poem is taking a shot at the hypocrisy of the church, mentioning "lies on the lips of the priest." We can't argue with them there. Yet at the heart of their poem is another idea. In the dark world of drugs and criminality, the church not only has no relevance, but no presence period. So, in the carnage of the streets, one makes one's own god . . . and it's you.
We need a church in the wild.
For better or for worse, God's plan for the healing of the world is the church. This community is somehow mysteriously the continuing incarnation of Jesus' body in the earth. A community of fallible human beings, gathered around the risen Jesus, empowered by the Spirit, who derive their life from the life of God. Jesus said he would "build" his church, and nothing in or under the world could stop it (Matt 16:18).
Could there be a church in the wild for people like my little brother? Those with tears tattooed beneath their eyes? Those who jam a needle in their arm to escape their pain and grief? A church where they would find a chorus of others with which to sing the broken hallelujah? Could churches step up to make an impact amidst the largest overdose epidemic in history?
Every congregation in America should start Fresh Expressions of church for people in recovery. We can cultivate communities in the wild, where people can learn to paint with ashes. We can use our wounds to heal the broken in our neighborhood. 
How can your congregation join in? What would it look like for you to start a fresh expression for those are in recovery?
—–
To dig deeper, here's three things you can do!
Pre-order Michael's new book, Painting With Ashes, use this code BECK55PL to receive 20% off
Join our upcoming webinar on ReThinking Recovery with Jorge and Cheryl Acevedo, Roz and Callie Picardo, and Michael and Jill Beck.
Sign up for the ReThinking Recovery @ Resilient Church Academy starting this January.