One enters the door to this well-lighted and colorful indoor skate park and there are tables where a few are gathered, a counter and a wall behind it with skate paraphernalia, ramps and protective screens in the activity area and more amazingly, art around the walls. Some call it graffiti, but take a closer look and you can see and feel the warmth of the designs. They are an outward expression of the young people's inner feelings of release and searching/seeking. The question is, what are these young people seeking?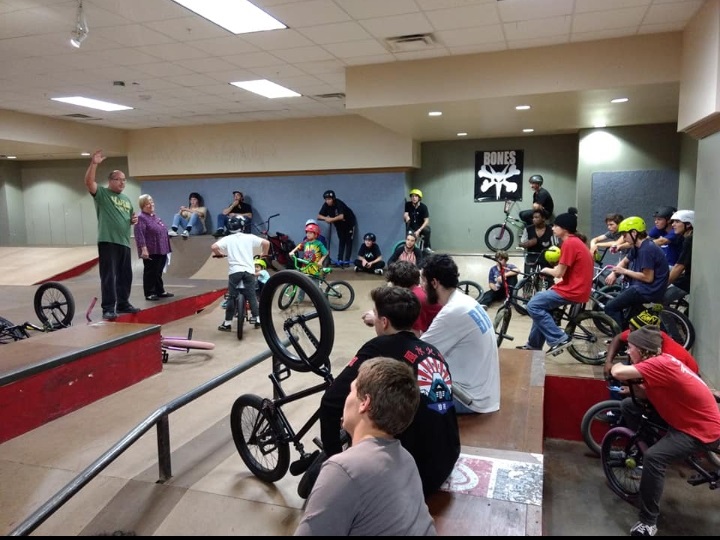 Approximately 9 years ago United Methodist pastor Brent Staul and his family embarked on this adventure to put their faith to work in the community. They decided that there was a need to reach young people who were being marginalized and not accepted… young people who had gifts and talents that didn't fit into the normal concept of ministry or church. Hence MEKOS Indoor Skate Park was born, with the PURPOSE to deliver the good news of Jesus Christ to youth drawn to action sports and to help them to grow in mind, body and spirit. Soon after, Paul's mother Rita Staul, a United Methodist Church pastor, joined with them in this venture.
After MEKOS, a non-profit, opened the center in the first location they relocated to their present location where there is constant motion with aerial flips on skateboards, inline skates moves and skateboards that seem to defy gravity. However, there is a "center of gravity" in this unique Fresh Expression of Church. That center is the provision of youth with positive energy in a faith-based setting.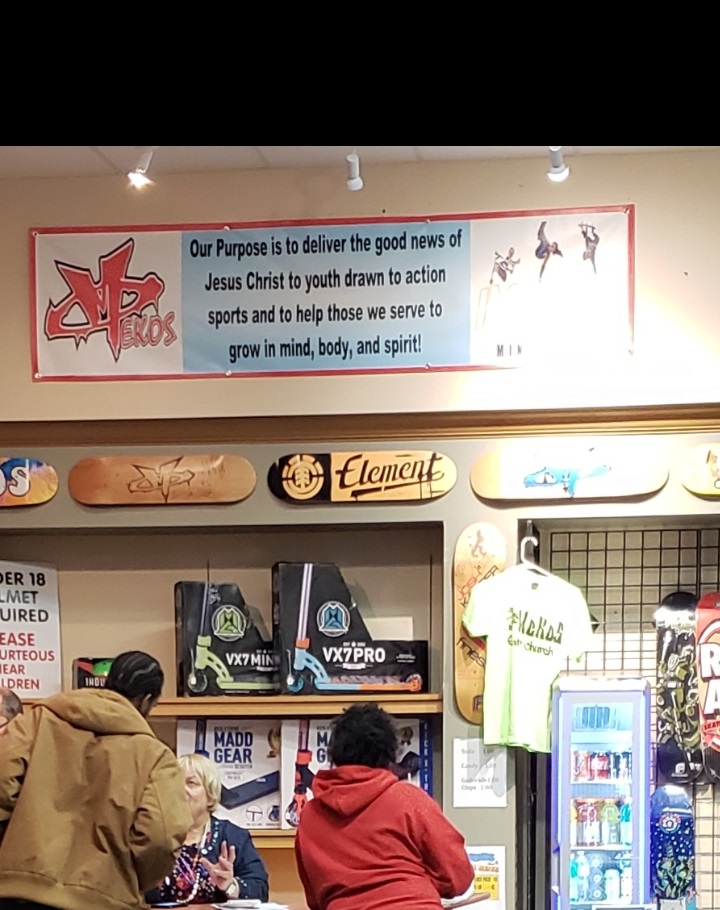 On Sundays for the skaters and Tuesdays for the bikers dozens gather in a circle or semi-circle to hear a message which entitles them to skate or bicycle for free. The faith-based experience is not a requirement to skate…  but to see the young people giving their attention is nothing short of miraculous. One 11 year old described it this way: "Parents will like this, because they have a hard time getting their kids to go to church."
Imagine 10,000 young people passing through the doors in a year. 10,000 souls that, for the most part, are not members of any organized church. Young people are coming from Virginia Beach and other cities on the south side of Hampton Roads and as far away as Richmond. What are they seeking? One skater said that he welcomes the religious activity. He prefers MEKOS to other churches because he can wear what he wants to and doesn't feel judged. He further states that "the mentors and skaters feel like family".
Since their beginning, MEKOS has partnered with the Newport News Department of Social Services Youth Services Division to provide an after school program for youth.  The students receive help with homework and mentoring from the staff. Individual case management and other services were handled by the Social Services agency staff.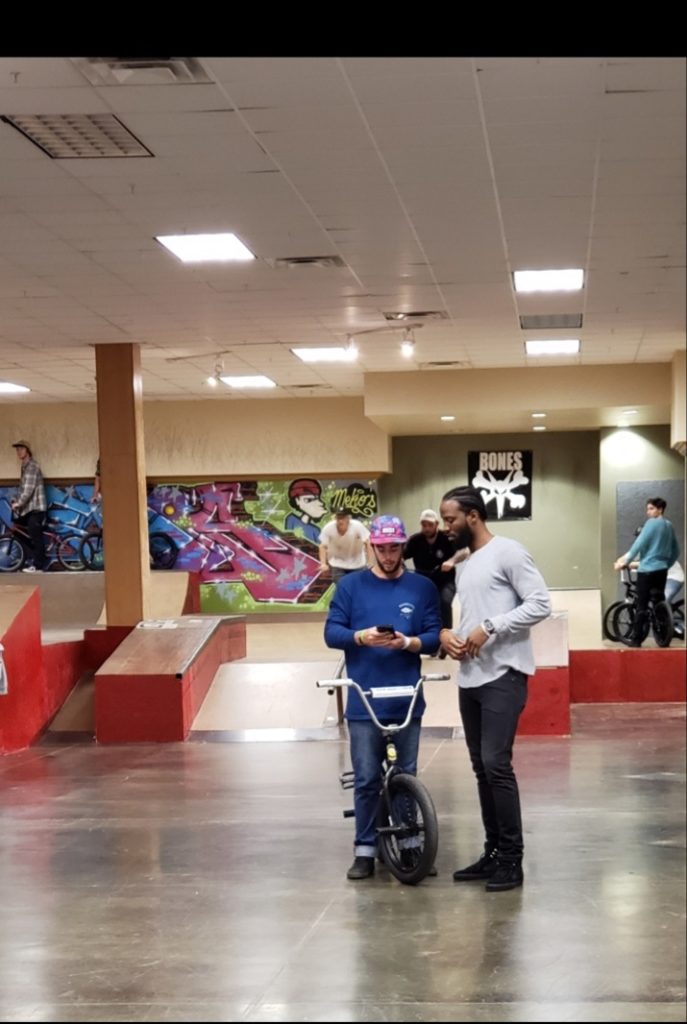 Has it been an easy road? "No, it hasn't," states Pastor Rita Staul. "We have been close to closing the doors many times and had to relocate several times, recently relocating back to the Peninsula Town Center area in Hampton where it all started. Without the generosity of the York River District of the Virginia Conference of the United Methodist Church, other churches and the willingness of individuals who believe in the miracles that are happening at MEKOS the doors would be closed."
They are not out of the woods yet…not by a long shot. There is no collection plate to pass and they have exhausted all their funds to open in this most recent location. Amazingly, the build out of the ramps and obstacles were done by the young people themselves and volunteers. This, in itself, is an amazing story that needs to be told.
In a recent gathering at a monthly Pastor's Dialogue in Hampton, Chuck Harrison, the Director of the Peninsula Baptist Association (PBA) stated, "we really need to get you more support from the PBA churches for this ministry." These sentiments are echoed by others such as Pastor Gail Roberts-House who pastors a Full Gospel Baptist Church in the Phoebus area of Hampton who has befriended Pastor Staul and is helping to open doors of support in the community. As Pastor Staul states, we need the generosity of our community as a whole to maintain this safe place for our creative young people and to continue to attract kids who might feel like they don't fit in elsewhere. "Up until now, to God be the glory for answering our prayers and supplying our financial needs as the spiritual needs of the kids we minister to."
The Skate Church, MEKOS, opens daily except Mondays. What does this Fresh Expression of Church need? Volunteers and financial support from our Churches and communities. There have been countless young people that have given their lives to Christ through a ministry that allows them to be who they are… an individual created with wonderful gifts in the image of God to be developed and utilized in our communities.
What are these young people seeking?  This is the answer, "I learned that God is forever loving… I learned how Jesus died so God sees us as perfect… and, I learned that no matter how bad something gets God will be there."
For additional information or reach out to support call 757-896-1281 or visit the website at https://mekosskate.com.