by Gannon Sims
South Bend, Indiana—One night, Heather Ghormley had a dream. Around the same time, someone in her neighborhood group had the same dream. They dreamed that their little neighborhood group became a church. Ghormley, an ordained minister in the Anglican Church in North America, shared part of her story at the Fresh Expressions Vision Day in Mishawaka, Indiana.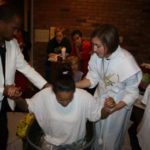 Ghormley didn't set out to start a church. She set out to love her neighbors in South Bend. She was serving on the staff of a large church. It was the sort of church that fit her academic pedigree. But it didn't seem to fit her calling. "So my husband and I began praying about what sort of ministry we needed to commit to and we asked ourselves what we'd do if money were no object and it was clear: loving my neighbors who were outside the reach of my church was what I wanted to do." Ghormley and her family had lived in the neighborhood about three years and she had already developed a good rapport with many of her neighbors. "I also kept up with single moms, refugees and grad students I'd met through other experiences who needed a friend and it morphed into a sort of freelance chaplaincy" she said.
"Eventually, I couldn't keep up with everyone one-on-one so I started meeting them in a group." The group met for about six months. During that time, she and her husband began praying about what God wanted us to do next and felt a call to church planting. But they weren't sure where. Then Ghormley had the dream that they started a church in their neighborhood.  "A week or two later when another member of our group told me that they too had that dream, with many of the same details, we knew God was trying to tell us something."
She told the pastor of the local church in her neighborhood about the dream and asked if their group could meet in the church on Sunday evenings and the pastor agreed. The next thing she knew, people started learning how to pray, then they started reading the Scriptures and then they started doing what they read about in the Scriptures. "People started receiving healing from all sorts of things." Ghormley said. "I've never done any advertising. People are meeting God—and word has gotten out."
Ghormley's house has become a safe haven for neighborhood kids. Five of the roughly 15 kids who spend time at their house have been baptized. Several others have made commitments to Christ. The five baptized kids helped introduce their mother to Christ.
Over the past few months, Ghormley and her husband have transitioned the group from a "small group" format to a more structured format, by slowly adding bits of the Anglican liturgy each week.  When it seemed clear that this Fresh Expression of church was becoming a more mature form of church, they began to pray about a name for the church.
Through their dreams and prayers, Tree of Life Fellowship was born. This name came from the verse in Revelation 22:2 that says, "The leaves of the tree of life were for the healing of the nations." The church is ethnically and socioeconomically diverse. Many of the people had little to no relationship with the church before meeting Ghormley. It took three years, but now a group of people in South Bend are becoming church because one person wanted to know her neighbors. And one of those neighbors had a dream.