by Gregg Jennings
Fredericksburg, Virginia—In October of 2011, there was a murder at The Colonial Motel.  Evidence suggests it was a drug deal gone badly. The Colonial is an ironic and notorious place where women are used in prostitution and where sex-offenders go to transition.  Now, by adding murder to its resume, The Colonial Motel sealed its fate as Fredericksburg's finest leper colony, always happy to "leave the light on for you" as long as you're looking for a red one.
After the murder, I voiced a simple prayer everyday while walking past the motel on my way to the office, "God, we will take action but you'll have to tell us what to do. We'll file legislation and get petitions to close this place. We'll even pray for lighting to strike. Because things have to change."
Within a couple days God came back with an answer for our church. It was that old familiar incarnational response: "Go to them. Enter their world."
Why do we always choose to forget this?
The timing couldn't have been any more divinely-orchestrated because the church was in full Advent mode and within a few days it was clear that God wanted us to incarnate the world of the Colonial Motel in the same way that he incarnated the murderous, criminally-infested world two-thousand years ago.
The idea took on legs of its own. Before long, another church even closer to the Colonial Motel partnered with our church to make the Colonial 'Inn-carnation' a reality.
Last December, while some churches debated whether or not to have church on Christmas morning—since it was on a Sunday—these two expressions of church debated whether to serve breakfast burritos or sausage biscuits to our neighbors at the Inn.
Our game plan was pretty simple: A 45-minute worship and Communion service at the church followed by each worshipper grabbing a gift bag for a Motel resident that included homemade cookies, hand-written Christmas notes of encouragement and hope from church members, candy and a twenty-five dollar gift card.
The two churches joined together for prayer on the city street. On Christmas morning, while some were crying about getting the wrong color iPod, the church was on mission praying for the broken and forgotten. But these prayers were not without preparation for action.
We went Christmas caroling door-to-door at the Motel.  We set tables for breakfast in the parking lot. Soon an entire city block was filled with joy and laughter.
One o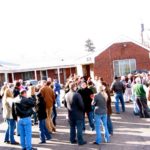 f the most beautiful moments of the morning was when a homeless man on a bike, who wasn't even staying at the motel began sending texts to his friends: "Christmas is here and it's at The Colonial Motel."  Nearly 200 people ate breakfast that day and it was impossible to tell who was from the church and who was from the motel.  It didn't matter.  God was hosting and all of us were his guests.
Usman, the owner of The Colonial and a Muslim, told me that day—"Thank you for bringing hope to humanity.  These people think they've been forgotten by the world and today you have showed them otherwise."
We learned a lot through this experience. That incarnation usually begins with a sick feeling in our stomach and usually ends by breaking bread with sinners.
Jennings is pastor of Common Ground Christian Church in Fredericksburg, Virginia.