"Waffle House," he said. "What I miss most from living in the South is Waffle House. You don't know how many times I've visited that place—sometimes in the middle of the night since it was always open." That's how the conversation went as a group of us were expressing our breakfast food convictions while packing up after praise team practice one Sunday evening. We were all pretty hungry, which probably steered our words in the direction of our growling stomachs and yellow-roofed, always-open restaurants. A couple days later, I picked up the waffle thread again when we were deciding where to meet to do some worship planning.
"Too bad there's not a Waffle House around here," I wrote in an email to my worship leader friend, the same guy who had begun the reminiscing on Sunday night.
"Maybe we could open up a Waffle House with a little stage at one end where we could do contemplative contemporary music, relevant sermons, and shadow puppeteering classes? We could call it an 'extension ministry,'" he wrote back. It was a joke, but it began to feed a daydream inside me as I looked around my office, an office located within a steepled red brick building that characterizes Usual Church, the place we usually store Jesus.  And so, I asked myself, what if Usual Church were more like Waffle House?
Yeah, Waffle House Church.
Surprisingly, Waffle House's mission is about more than satisfying your late-night hashbrown cravings. The chain, which dates back to 1955, was founded on principles of simple, quick food, 24-7 availability, and table service. The kitchen is wide open so you can watch your eggs go from shell to frying pan to plate with nothing to hide, and the trademarked jukebox in most restaurants plays music by bands that are historically connected to the chain in some way. The name "Waffle House" was chosen not o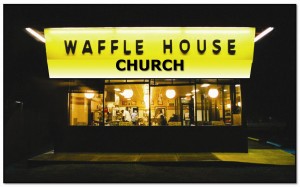 nly because waffles were the priciest item on the simple menu; the delicate nature of waffles makes them poor items for take-out. Because of that, Waffle House compelled folks to dine-in and share meals at tables and countertops—and the idea worked. Older folks meet friends and can get a decent, yet cheap meal. Parents with babies can be sure that the service is quick. Travelers know what to expect on the menu. And anyone—make that everyone—is always welcome. You're welcome if you're wearing pajamas. You're welcome at 3:00 a.m. when nobody else is open. What a unique idea for church.
The Waffle House Index
Waffle House is also one of the top companies in the US for disaster response. Because of the restaurant's resiliency, FEMA gauges the severity of hurricanes and tornadoes based on its Waffle House Index, a scale based on whether the weather has forced restaurants to close and how limited their menus are in the days thereafter. Even during periods of chaos, you can be reassured that Waffle House will provide the home-cooked meal you need, no matter when you need it. Maybe that's why you can bet that at any given moment, at any time of day, people are gathering around tables, music is playing, and waffles are being served.
The church can learn a lot from Waffle House.
In John 6, we read the familiar story of Jesus' feeding of the 5,000. Here, Jesus shows us that sharing, serving, waiting, and eating is about more than food— just like Waffle House is about more than waffles.  A Waffle House sort of church doesn't identify itself with big spaces and traditional structures that are foreign to folks who have no church history; instead, it connects the physical and the spiritual, the simple and the sacred, and both community and communion in ordinary spaces among familiar faces. People who live complicated lives are not looking for a complicated church menu. Lonely folks would rather sit at a counter and listen to Gus the Cook than sit by themselves in the corner of a sanctuary. Men and women in the midst of chaos in their lives are looking for first-responders and familiar places where they can rest and be replenished. If Jesus simplified the complicated, enlisted the lonely, and brought resurrection in the midst of hopelessness, what would be a better place to create a new form of Church than a place like Waffle House?