I have lived in Florida for over 35 years and have weathered more than a dozen hurricanes and been part of recovery and rebuilding work following severe and massive storms. When a storm forms that has a Florida track you pay attention and start preparing mentally and physically. We readied ourselves for Hurricane Ian as we waited to see where this storm would go.
It came ashore in Southwest Florida devastating Sanibel Island, Ft. Myers and more. Whole communities were leveled by the storm surge with nothing but debris remaining. One place particularly hit hard was a trailer park named Suncoast Estates where Grace Church several years ago established a Dinner Church called; Eat, Pray, Love. Heather Evans leads this community and has been on the scene before and after Hurricane Ian caring for this missional congregation.
In this landscape; people who had broken lives, made past bad decisions, were given another chance to rebuild a life of meaning and purpose. To put it in a biblical context these people had built their lives on the sand and after several storms had taken them out, they had begun to build their lives on the rock solid foundation of faith.
Bob is an example. He had struggled with homelessness all of his life. He finally scraped enough together to buy his first home. It now lies completely destroyed, in rubble and ruin. He has no insurance and will struggle to find a way forward. His church is Eat, Pray, Love and he has become a follower of Jesus, hearing and responding to the Gospel, becoming a student and lover of God's Word. Heather saw Bob after the storm and embraced him assuring him he was not alone. That the Lord through His church would surround him in these sad moments of loss and grief.
Bob's story is one of hundreds from this one location and of thousands of people who make Southwest Florida their home.
Recovery has begun as people sift through what is left of their homes in Suncoast Estates.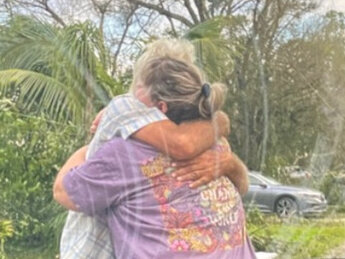 Grace Church and Eat, Pray, Love are on the ground as recovery begins. Sleeves are rolled up, resources are being gathered, work crews are being deployed. Immediate needs of food, water, and shelter are beginning to be met. It is a desperate situation and there are 3 ways to engage with these relief efforts.
Pray.  We serve a mighty God who listens when we pray and takes action to save, deliver, redeem, renew and comfort; wounded, hurting people. Pray for the locals who are stepping up to serve, for first responders who are caring and rescuing those in distress, for the people who are weary already and overwhelmed by what they see in front of them. 
Volunteer.  If you live near the affected areas or can travel there, you can help by picking up garbage or using a chainsaw or other tools. You can email Heather at hevans@egracechurch.com who is organizing and coordinating work crews for the whole area.   
Give.  There are lots of people who can not make the journey to Southwest Florida or do not have the needed skills to pitch in for this calamity. But you can invest where hands-on relief is being delivered. The Eat, Pray, Love Dinner Church needs your support as it feeds, comforts and provides for people who have suffered so much loss.  You can make an online donation at egracechurch.com/ian and write Dinner Church in the comments. Your gift goes directly to those in dire need. 
Despair in moments like these can be overwhelming. People can feel lost not knowing what they should do next. Let them know they are not alone. By your gifts of time or skills or finances you come alongside them in a tangible way assuring them of God's love and provision.
Your gift speaks and proclaims this foundational truth to them; That nothing, neither death nor life, neither angels nor demons, neither the present nor the future, nor any powers, neither height nor depth, nor anything else in all creation, (including Hurricanes and the devastation they unleash) will be able to separate us from the love of God that is in Christ Jesus our Lord.
Be a part of turning their mourning into joy, their darkness into light.